$79 for Two weeks Trial Program. Inculudes a free uniform and 4 TKD Classes for 2 weeks.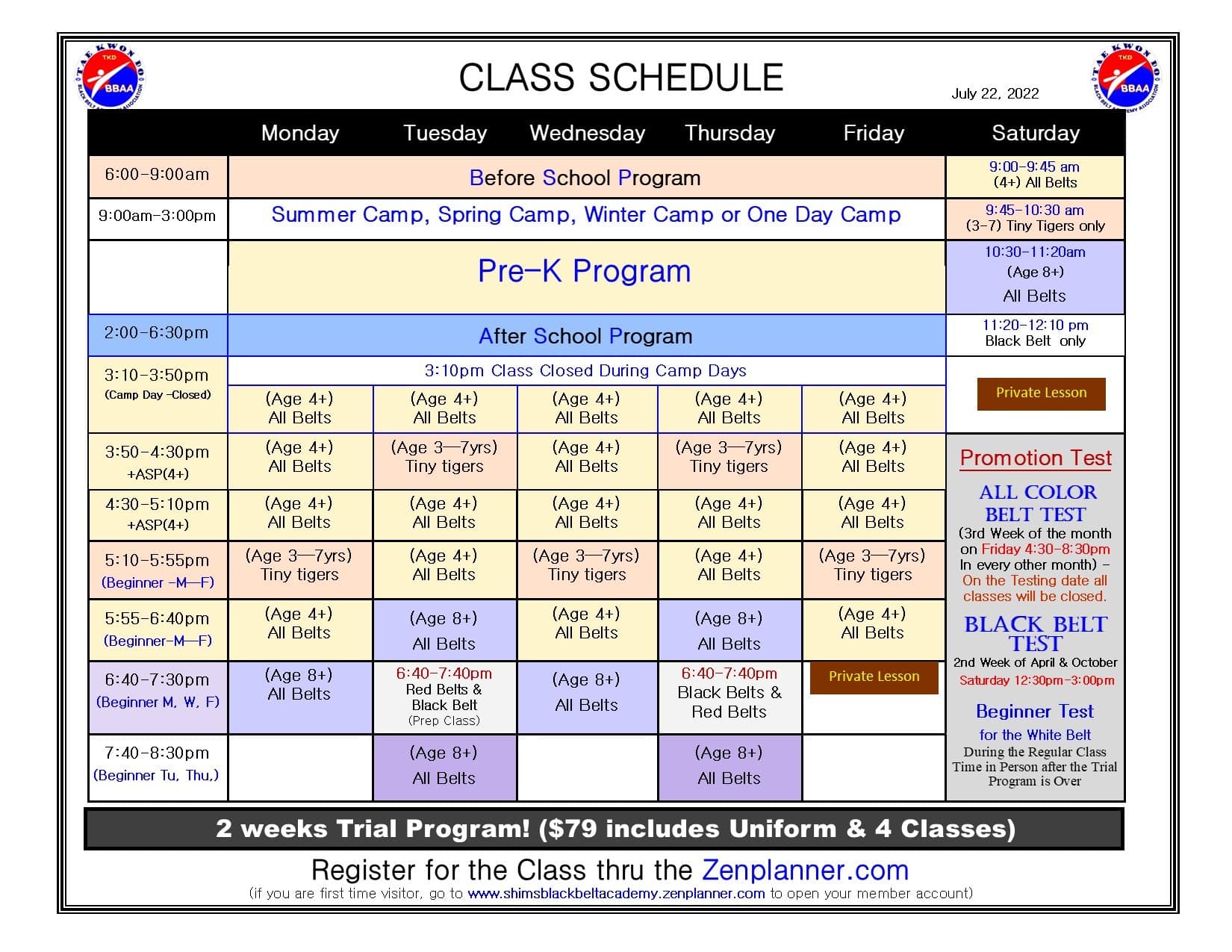 What do we do for your children
We teach children to be confident and have the attitude of "Yes I Can"

We teach them to be disciplined, not only to grow better in life, but to say "NO" to drugs when they are ever offered.

We teach them to be physically and mentally ready against any would-be assailant.

We help to strengthen their minds to do better in school and in their future career.

We teach them how positive life can be if they learn to think positively.

We let the children have fun enjoying the opportunity of a lifetime to learn the Martial Arts. We also monitor their progress in school by checking their report card when they get tested for a belt.

We pinpoint specific goals for each student. We are talking about short term goals (maybe for that day or that week), intermediate goals (a few weeks at a time or a specific belt level) and long term goals (becoming a Black Belt Role Model).

We incorporate the goals to a child's behavior; be it mental, emotional, intellectual, or physical.

The children who reach a Black Belt level in our academy have integrity, self-discipline, confidence, leadership qualities, and last but not least, they become a champion in life.
"I'm really glad we found this place. My son really loves it here. He gets to socialize, learn obedience and follow instructions, as well as the art of Taekwondo and the importance of it. Such an awesome environment, the instructors are extremely friendly, fun, and patient. The front desk receptionists are also nice and helpful. I would definitely recommend BBA to anyone with active and eager-to-learn children. Thank you Master Shim's BBA, including all of the awesome instructors and staff, for this wonderful opportunity."

"My 3 children absolutely love their TaeKwondo lesson's. Master Shim & all the coaches are so good with all the children. Encouraging them to work hard & do well. Classes are well run and a joy to watch- my children ask to go back every single day!"

"Great atmosphere. Excellent leadership and guidance. A class for all skill levels. Master Shim is excellent to study with and is able to adapt the training to all ages."

"I was hesitant to sign my six-year-old up for taekwondo because she is so timid. The first day, she cried before even going onto the mat. One of the instructors came over and immediately made her feel comfortable enough to at least step onto the mat. After four classes, she earned her white belt and got a tip on her belt the next class. I have seen her confidence just shoot through the roof since starting these classes. Now we have our own targets at home and she really loves the physical activity, the discipline, and really working hard to achieve her goal. I recommend this class for every child, and our next child will start when she turns three years old. The instructors are amazing and so good with kids, Connie at the front desk is so informative and ready to help with anything you ever have questions about, and the facility is just perfect for what they're doing there."

"This is a great academy. Master Shim really cares about his students and it shows. All of the instructors are excellent and patient with the students. My wife, son, grandson, and I have all been students here and have learned a great deal. They also make it fun and enjoyable. I highly recommend this Martial Arts studio."

"We moved from Texas, my son learned more Taekwondo in two months than anywhere else combined. Very courteous, very professional, I wouldn't go anywhere else. Master Shim is an excellent instructor, probably the best in Pax River."
Private lesson Price is depends on the instructor. Instructor, Master Insturtor and Grand Master Instructor. 1 session : 30 min To schedule your private lesson please, call us (301) 737-4553